Amanda Wild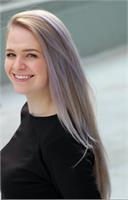 Amanda Wild was born in Calgary AB, where her first tumbling, tap and ballet classes sparked a fire in her for the performing arts. After originally training in gymnastics, Amanda moved forward to discover her love for movement in multiple dance disciplines including ballet, modern, contemporary, lyrical, jazz and her passion: hip-hop. After moving to Victoria, Amanda began teaching at multiple studios and high schools for over 5 years. She then re- located to Vancouver to extend her training under Moe Brody of Harbour Dance Centre and their Intensive Training Program. There, Wild was invited to be the closing act of the Vancouver Spring show at the Queen Elizabeth Theatre, as well as dance back-up for the artist, Michael Bernard Fitzgerald during the Vancouver stop on his Canadian tour. Following ITP, Amanda continued to train in Vancouver with companies such as Two Four Seven Co. SOULdiers Co. and Illustrative Society's Mentorship Program where she honed her technique in popping, house, locking, breaking, hip-hop and freestyle. Due to her strong passion for teaching, as well as her unique choreography, Amanda has continued to work in Vancouver dance scene, choreographing for names such as Dancing With The Stars B.C, SO LOKI, and The Harlem Globetrotters. Providing quality dance lessons and instruction for every level, Amanda continues to dazzle the dance world not only as a dancer, but a leader and an artist of her generation.
Amanda Wild instructs the following:
Influenced by hip hop music and culture, this class introduces the foundations of hip hop movement and popular dance steps. Hip hop encompasses styles including locking, popping, house, grooving and more. Styles of hip hop taught in this class are similar to performances of dancers in you might see in music videos or on tour. (Please bring clean runners to class, no street shoes).

Level Intro: For those with little or no dance background, you'll learn all the basics at this level.