Shauna Smith Richie Lubaton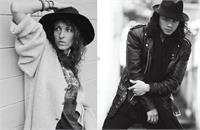 Shauna is a professional dancer/choreographer. Her training in Urban & commercial street, Hip Hop, Breaking Locking & Popping & Street Jazz have taken her all over USA and South Africa as a dancer and a choreographer. Her performances in film & video has seen her appear in The Killers Spaceman , Studio 54 Las Vegas and Cinderella Story 2 to name but a few. She is dance ambassador for Lululemon Athletica, director/dancer/choreographer for Kill The Lights dance crew & guest instructor/choreographer for SASAD South Africa.
As a multi- talented dancer and choreographer, Richie has been in the dance industry for several years. He discovered his passion for dancing at a later age than most but that didn't stop him from pursuing various dance styles avidly, including: hip hop, popping, locking, breaking and house. As a part of Vancouvers "Faculty" dance crew (dir: Carlo Atienza) Richie was able to help them win several titles in dance competitions including (Artist Emerge, World of Dance Vancouver and Seattle) He is also a staff member of Vancouver's most prestigious drop in studio "Harbour Dance Centre" where he shares his love of dance with his students every week!
Shauna Smith Richie Lubaton is currently not instructing any classes.