Lexi Vajda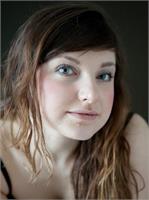 Originally from North Vancouver, Lexi Vajda is a Vancouver based independent dance artist. She received her contemporary dance training from Modus Operandi in Vancouver and has had the pleasure of working and performing locally with OutInnerspace Dance Theatre, the response, 605 Collective, plastic orchid factory, Mascall Dance, Move: the company, Delia Brett, Karissa Barry and Shay Keubler Radical System Arts among others. She also currently enjoys teaching for Modus Operandi as well as at various dance studios throughout the lower mainland.
Lexi Vajda instructs the following:
In this contemporary technique class we will use floor work and release- based techniques to explore the anatomical structure of the body and sequential movement. Working with gravity as an initiating force for dancing, we will play with pushing, pulling, falling and spirals in different patterns and combinations to travel across the space while moving in and out of the floor. The class will begin with variations of bodywork and movement improvisation then gradually build in intensity and complexity as we progress from moving close to the floor to more upright and upside down movement patterns.