Erica Trivett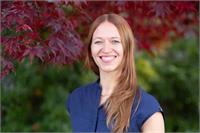 Erica was trained at the Goh Ballet Academy. She was a finalist at the 1991 Prix de Lausanne, was awarded by Critics Choice Tanz International, most promising young dancer in Switzerland (1999) and best female performer in Denmark (2002). Erica danced as a soloist with Oregon Ballet Theatre, the Grand Théâtre de Genève and Gulbenkian Balllet (Portugal). She began free-lancing in 2000 in Swtizerland, France, Greece, Denmark and eventually based herself in Brussels for 7 years. She continued to travel and free-lance in and outside of Belgium and studied to become a Feldenkrais Practitioner in Paris, France.
Erica has been teaching workshops in the Feldenkrais Method as well as Ballet and Contemporary classes for schools and companies internationally and locally.
She returned to Vancouver, Canada in 2010 to continue her interests in dance, movement and health. Erica completed 5 years of studies at the Canadian School of Osteopathy Manual Practice and is currently working on a thesis. She has a manual practice at West Coast Osteopathy and Wellness.
Erica Trivett instructs the following:
Ballet: Helps to build a strong base, clean technique and proper alignment, all of which are essential for any kind of dance. Barre exercises, combinations across the floor and adagio are taught to live piano accompaniment.

Level: 1 is for dancers with anywhere from one to four years experience who enjoy a slower-paced class with less complex dance steps.