Nadia Dobrianskaia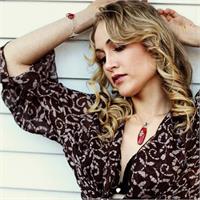 Born in a country that no longer exists, Nadia's family moved to Canada; Nadia is now fortunate to call Vancouver her home. Growing up she fell in love with performing at the Palme Theatre. She lived her young adult life on stage, living, breathing, becoming the characters she was portraying. Some of her life's moments were captured in front of an audience. It only took one class at Harbour Dance Centre to get her hooked on expression through dance. A new love affair was born. Learning from the amazing Harbour staff and working with various directors, Nadia soon started choreographing for the Palme Theatre. She worked on choreographing and directing classical works such as "The Government Inspector", "Dead Souls" by Nikolai Gogol, "The Little Prince" by Antoine de Saint-Exupéry , "The Village" by Dimitry Grigorovich and many more.
Nadia's passion for performing, learning and growing will always burn inside her. She branched out from the Palme Theatre and performed in the 2010 Winter Olympics, trained with Harbour's Endangered troop, worked with The Lover's Cabaret as one of the principle dancers and finally found a home with Cabaret Torlage created by amazing Leigh Torlage.
Nadia Dobrianskaia is currently not instructing any classes.