Joe Tuliao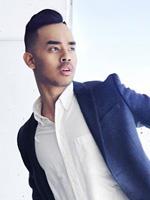 Born and raised in Vancouver, BC, Joe Tuliao has established himself as an innovative and emerging talent in Vancouver's dance scene. Joe started training in dance at the age 8. He has excelled in a variety of styles including contemporary, tango, street jazz & hip hop.
Joe has been featured in music videos (Tristan Thompson) & live performances such as WEday Vancouver 2015. Recently he had the opportunity to dance behind the legendary Janet Jackson in her first concert "Unbreakable" in Vancouver.Joe had the privilege to work with choreographers from LA such as José Hollywood, who currently choreographs for Nicki Minaj & Beyoncé. Joe is also a member of 'The Faculty' an all male crew composed of Vancouver's top male choreographers/dancers. Joe recently started a dance training program, "Illustrative Society",that focus on enhancing their craft in the dance industry. Currently, he mainly teaches out of the prestigious Harbour Dance Centre & Studio604 in Vancouver.
Joe Tuliao instructs the following:



Influenced by hip hop music and culture, this class introduces the foundations of hip hop movement and popular dance steps. Hip hop encompasses styles including locking, popping, house, grooving and more. Styles of hip hop taught in this class are similar to performances of dancers in you might see in music videos or on tour. (Please bring clean runners to class, no street shoes).

Level 2/3: Advanced




Sexy Street is an awesome mixture of urban hip-hop and commercial-style street jazz. The choreography is sexy, Beyoncé-like, and *strong*! With a great warm-up that is guaranteed to get you sweating, this class is well-rounded workout from start to finish. Sneakers or heels for footwear. Open to all genders.

See an example of class here:

Intro level for beginners.