Dario Dinuzzi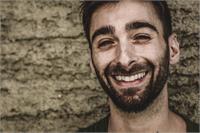 Dario is originally from Italy, a permanent resident of Canada, and currently an independent dance artist based in
Vancouver. Before his career as a professional dancer, he was performing as a juggler and flamespitter
in southern
Italy.
Dario has worked for twelve years as a professional dancer in contemporary ballet companies, including Aterballetto
(Reggio Emilia), Les Grands Ballets Canadiens (Montreal), and Ballet BC (Vancouver). During these years he had
the opportunity to connect and interact with artists coming from diverse cultures. Each of them has left a strong
mark in his dancing and understanding of movement. To name a few: Gioconda Barbuto, Serge Bennathan, Mauro
Bigonzetti, Aszure Burton, Stijn Cellis, Jacopo Godani, Jiri Kylian, Johan Inger, Mats Ek, Ohad Naharin, Walter
Matteini, Emily Molnar, Kevin O'Day, Medhi Walerski… among others.
His passion for movement has inspired him to continually investigate, explore and express himself through the
language of dance . In 2007 he choreographs his first short piece and since then he continues to cultivate and enrich
his creative side. His choreographies have been presented in Italy, Canada and US.
Since his move to Vancouver in 2010 he developed skills as a ballet teacher and coach. He has currently taught at
national and international level including: Ballet BC, ArtsUmbrella, Modus Operandi, LamonDance (Vancouver,
BC), Ballet Preljocaj(France), Ballet Basel (Switzerland), Ballet Mannheim (Germany), SUNY (Purchase, NY).
In this phase of his career Dario is focusing on developing further his training. Gaga (Aya Israeli, Doug Letheren,
Yaara Moses, Shahar Biniamini), Hofesh Shechter ( Bruno Guillore, Maeva Berthelot, Sam Coren, Philip Hulford,
Merel Lammers, Attila Ronai) , 605 Collective, James O'Hara, Johannes Wieland and Evangelous Poulinas, are
some of the atitsts and languages he has been exposed to including vertical dance and circus training.
He is currently Artist in Residence with Ballet BC and board member at Cada/West.
Dario Dinuzzi is currently not instructing any classes.