Jenny Duffy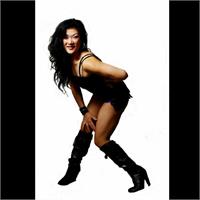 Jenny's live performance credits include Disneyland Magic Music Days, The BC Lions Felions Dance Team, The Vancouver Ravens Fly Girls, Roxy/Quicksilver Clothing, and Coca Cola. Jenny has appeared in music videos for rappers Mr. Monze and Young MC. Her television credits include appearances for Smallville, Fashion TV, MTV, Urban Rush, and VTV Breakfast. She has also performed with recording artists The Black Eyed Peas, Bryan Adams, and Jully Black.
Jenny Duffy instructs the following:
Sexy Street is an awesome mixture of urban hip-hop and commercial-style street jazz. The choreography is sexy, Beyoncé-like, and *strong*! With a great warm-up that is guaranteed to get you sweating, this class is well-rounded workout from start to finish. Sneakers or heels for footwear. Open to all genders.

Level 1: Intermediate. For dancers with anywhere from one to four years of experience who enjoy a slower-paced class with less complex dance steps.