Kim Sato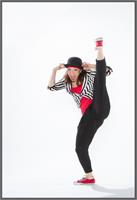 Kim's dreams became reality when asked to perform in the "Groovaloos" show in LA where she was able to showcase her multidisciplinary talents in bgirling, jazz, tap, modern, salsa, house, and hip hop. She has performed in films such as "Spectacular", "Kickin' it Old Skool", "Another Cinderella Story", "Centre Stage 2", "The Lost Boys II" and most recently an episode on the TV series "The L Word". Traveling the world she has danced in China, Japan, Brazil and all over the US and Canada. Some favourite performances include Dancers for A Small Stage, Brief Encounters, dancing as the opening act for Grand Master Flash, Swollen Members and 98 degrees, Miss Universe Japan, and touring with the Rhythmatix, where she tapped her way across North America with this percussion ensemble. In the past two years she has found herself traveling quite frequently up north to Whitehorse in order to share her passion for and knowledge of dance with the Yukon youth. Currently she is head of a performance crew called Project Soul with whom she will be touring throughout the BC school districts showcasing a forty minute hip hop/street style show in the upcoming 2009-2010 school year. Kim has also been the Director/Founder of the SOULdiers Company, an audition-based semi-professional hip hop company with whom she shares her passion of funk styles and hip hop culture for the past 3 years.
Kim Sato instructs the following:
Originating from the SOUL TRAIN era in the 70s, this dance style blends funky social dances with energetic characteristic movements like stopping and freezing in place. Locking is fun, funky, energetic and danced to upbeat funky music. This class welcomes beginner to advanced lockers and will leave you happy!