Liz Vaesen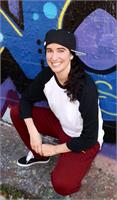 Liz is a professional dancer, choreographer, teacher and adjudicator with over 20 years of experience. Inspired solely by the beats and sound of Hip Hop music, Liz acquired her skills and knowledge straight from the street, later training in L.A., Las Vegas, Calgary and Seattle. Liz has become well respected in the hip hop community for her experience as a teacher who intensely studies and teaches true Hip Hop and its history. She has been blessed with training from many of the Hip Hop OG's and has a passion for sharing and helping others understand its foundation. Liz has taught hundreds of students, several who have gone on to have dance careers themselves. Her work has won numerous awards and competitions, and she often judges competitions and events where she enjoys encouraging dancers to see their full potential. Liz remains very involved in the underground Hip Hop scene. Being connected to the streets where Hip Hop lives and breathes is her passion. Liz is faculty for the SOULdiers dance company. She also has a B.Ed degree and is a public school music teacher.
Recent projects include: Film "Memorial Effects Factory" released in London 2010. Judge for Xstreme, Danceology, and HHI Western Canada 2011. Adjudicator for NIPAF 2011 and DanceWorks 2012 and Summer Knock Out 2015.
Liz Vaesen instructs the following:
Easy hip hop for beginners.

Influenced by hip hop music and culture, this class introduces the foundations of hip hop movement and popular dance steps. Hip hop encompasses styles including locking, popping, house, grooving and more. Styles of hip hop taught in this class are similar to performances of dancers in you might see in music videos or on tour. (Please bring clean runners to class, no street shoes).