Jojo Zolina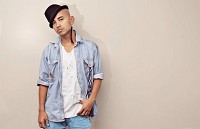 Jojo Zolina is a Filipino Canadian born in the Philippines, raised in Victoria B.C. and pursued his dance career in Vancouver B.C. Jojo has continually trail-blazed a style and standard that has filtered itself into today's mainstream dance world. With unstoppable artistry, Jojo has continued to constantly reinvent a technique that has quickly become coveted by several artists, including, Madonna, La Roux, Michael Buble, and Nelly Furtado. His craft has given him the opportunity to travel to continent as far as USSR, Europe, Asia and North America to represent and share his art. He is a well known commodity in the dance industry worldwide earning the respect from the best in the business. Jojo is a dance alchemist, boldly melding elements of ethnic folk dance, hip hop, funk, vogueing, waacking, house, reggaeton, dancehall, contemporary and latin.
He owns Jojo Zolina Productions, in which he has choreographed music videos for Cory Lee and Brock Zanrosso (YTV), and performed with Michael Buble, K-OS, La Roux, and Nelly Furtado. Jojo is currently travelling teaching dance workshop and performing internationally as part of original cast of Spectra's Cabaret.
Jojo Zolina instructs the following:
Waacking is a dance form that emerged from New York around the disco era and is presently going through a resurgence in the dance scene. With roots tracing back to the nightclub culture of the '70s, it is heavily influenced by the disco and funk era.

Waack dancing is recognizable by it's femininity, fast arm movements and vogues (pausing while dancing to pose), using the arms to hit every beat in the music to extenuate musicality. It's the driving rhythms & hard beats that make the funky disco music resonate through a waacker's swift and dynamic arm movements. This is commonly contrasted by the strong and snappy angular poses of Voguing, a style often incorporated into waacking. The style itself is an exuberant display of confidence and steeze.